Sonic Resistance: Indigenous Women and Social Justice
This panel examines the intersection of sound (music, dance, and performance) and social justice in Indigenous communities in North America. In collaboration with DU's The Spirituals Project, we will consider the way music and sound challenge the spaces of settler society. Established and emerging indigenous scholars will interrogate the intersection of sound and resistance. Please join us for a conversation with Dr. Brenda Child (Ojibwe, Professor of History at the University of Minnesota), Dr. Jacinta Toribio-Torres (Nahua, Research Professor at the Universidad Veracruzana Intercultural), Dr. Veronica Pacheco (IRISE Postdoctoral Fellow at Denver University), and Viki Eagle (Sicangu Lakota & Japanese, doctoral student in the Department of Anthropology at UCLA).   This panel is presented in partnership with The Spirituals Project and is co-hosted by IRISE, the Office of Diversity, Equity and Inclusion and the College of Arts, History and Social Sciences. 
Visit the PANELIST PAGE for full bios and resources!
Indigenous Women Activism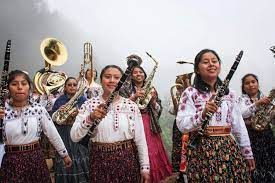 Mujeres del Viento Florido en el Día de México de Leamington Canadá