Advancing Inclusive Teaching Practices at DU
Dr. Valentina Iturbe-LaGrave Champions Inclusive Teaching Practices Across the Campus and Beyond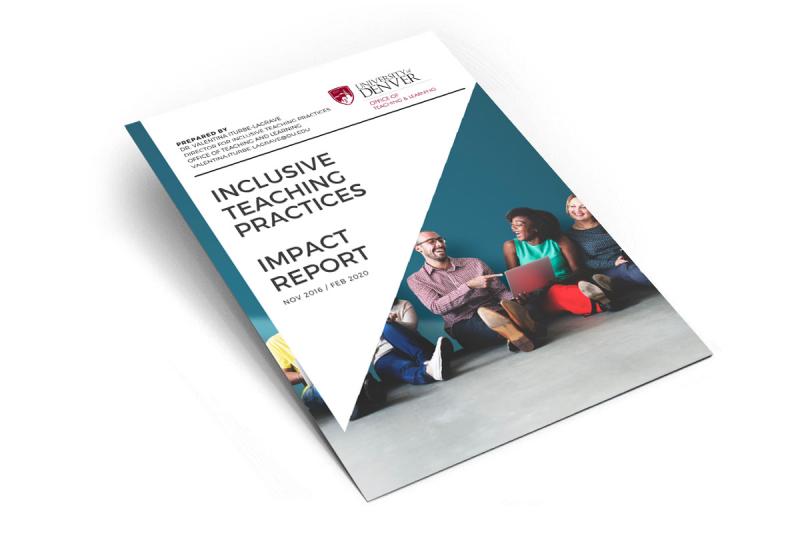 In 2016 the University of Denver became one of the first institutions of Higher Education to create a position tasked with providing proactive and responsive leadership, direction, and programming that advances the institution's commitment to Inclusive Excellence through Inclusive Pedagogy. I have been honored to serve in this inaugural role as Director for Inclusive Teaching Practices, and expand the creation, implementation, and assessment of strategic faculty development opportunities in a variety of mediums. From providing consultations to faculty members, academic administrators, academic departments, and allied offices to creating unique resources, there is no such thing as a dull day in my work-week. I am particularly excited about the forthcoming open-access Inclusive Teaching Website, which is the first comprehensive site of its kind in Higher Education. Further, faculty learning communities exploring White Fragility, Critical Pedagogy, Critical Issues in Supporting Trans* Students on Campus, and Inclusive Classroom Communication continue to expand our programming portfolio in creative and novel ways.
Learning environments are not only intellectual spaces but rather social, emotional, and physical places that have a significant lifelong impact on individual wellbeing and success. My goal is to support faculty members in developing the necessary knowledge-base to enact inclusive praxis while succeeding in critical roles throughout their academic life-cycles. To accomplish this, I design programming beyond the limited scope of "one-off" workshops and focus on sustained deep-dives into timely topics that are of interest to our faculty: Racial Battle Fatigue, Implicit Bias, Cognitive Impact of Microaggressions, Racial Taxation, and Invisible Labor in academia are among the most recent topics of discussion. Coupled with addressing critical aspects of inclusive pedagogy in course design, classroom management, and assessment of teaching and learning, we can create learning environments and experiences that validate, challenge and support all students in reaching their highest potential inside and outside our classrooms.
In today's charged sociopolitical climate and diverse world, Inclusive Praxis remains critical to equipping faculty with essential pedagogical tools to foster collegial learning environments. All over the country, students and faculty members are recognizing the structures of power, privilege, and oppression that have for so long impacted their academic access and professional success. As Director for Inclusive Teaching Practices, I continue to work closely with the Interdisciplinary Research Institute for the Study of (In)Equality and the National Science Foundation to actualize Diversity, Equity, and Inclusion at a time when it is not enough to "talk the talk." The 2020 Inclusive Teaching Practices Impact Report showcases our programming portfolio's reach while capturing how we're equipping faculty to "walk the walk." 
To learn more about the Office of Teaching and Learning Inclusive Teaching Practices programming visit otl.du.edu or email me at Valentina.Iturbe-LaGrave@du.edu.
Onwards,
Valentina
Valentina Iturbe-LaGrave, Ph.D
Director of Inclusive Teaching Practices

University of Denver, Office of Teaching and Learning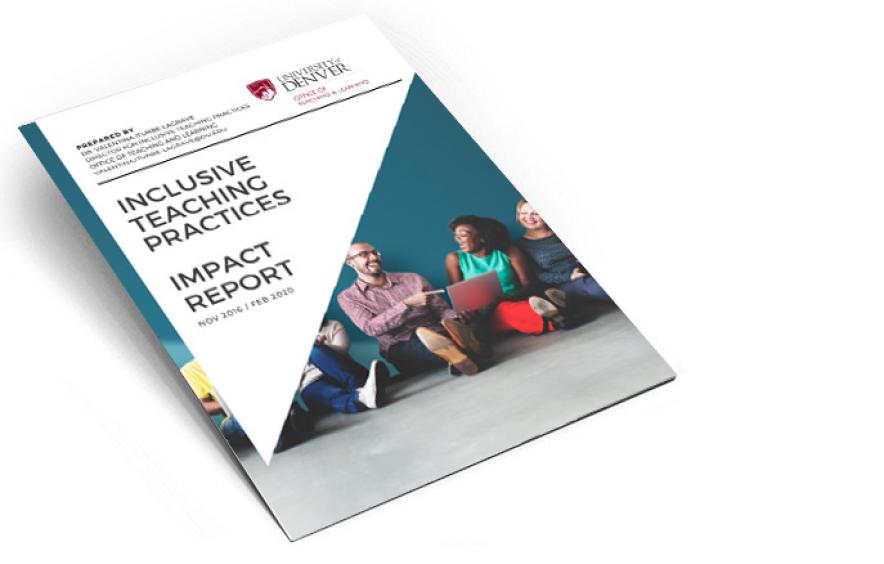 The Office of Teaching and Learning Releases the Inclusive Teaching Practices Impact Report
Read The Impact Report