GSSW Prof. Ramona Beltrán explores historical trauma and healing in award-winning animated short film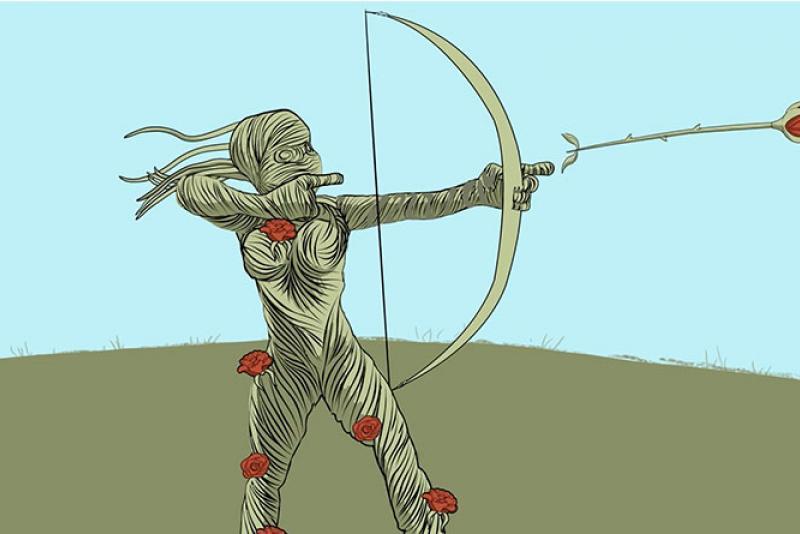 "They took us."
Those are the stark words of Navajo/Diné elder Helen Waukazoo, who shares her story of being taken to an Indian boarding school in a new animated short film produced by University of Denver Graduate School of Social Work Associate Professor Ramona Beltrán.
Beltrán produced the film, Source of the Wound, as a way to teach the concept of historical trauma in the online MSW@Denver course Macro Social Work Theory and Practice. Historical trauma is a collective, cumulative, intergenerational wounding that results from catastrophic events, such as the forced removal, relocation and boarding schools experienced by Native and Indigenous peoples, Beltrán explains in the film. She describes how science is showing that experiences in our environment can alter the genetic material surrounding our DNA and that these changes can be passed down through generations.
But, Beltrán notes in the film, "We actually have our own mechanisms to interrupt that intergenerational transmission of trauma in a way that gets at the source of the wound. Narrative is one of the ways that we interrupt that direct line of the trauma to the outcome. And story for Indigenous people is in our way of being. So we dance, we pray and we speak and retell our stories, and we create things new."
Thus, the film emphasizes the strength and resilience of Native and Indigenous people. "No matter what they said to me, I knew who I was," Waukazoo says in the film as a seed she plants with her father blossoms into an abundant flower garden. "You'll never forget what happened, but you'll be in charge of that healing."
Healing is the focus of much of Beltrán's scholarship. In a related project, the Our Stories, Our Medicine Archive, Beltrán is creating a community-based participatory archive that centers traditional Indigenous knowledge with the aim of reducing the health impacts of historical and intergenerational trauma in Indigenous and Latinx communities.
Watch Source of the Wound. Note that this film includes intense content related to historical trauma.
Although storytelling is part of Beltrán's pedagogy and scholarship, storytelling through animated film is a new exploration. "I have always used creative means to convey academic knowledge—to make something beautiful to convey complex topics," she says, noting that the ability of film—particularly animated film—to visualize the abstract can make concepts such as historical trauma more accessible and approachable.
Beltrán worked on the film for more than a year in collaboration with producer and director Adrian Baker of Injunuity, a Native animation production company that combines animation, music and interviews with real people to explore the world from a Native American perspective. Source of the Wound is part of Vision Maker Media's Injunuity film series. Vision Maker Media is a nonprofit that works with Native producers to develop, produce and distribute educational content centering on Native communities. The Injunuity production team interviewed and consulted with members of the Native community to create Source of the Wound, which was screened at GSSW's September 2019 Indigenous Women Lead Catalyst Series for Social Justice event. The film received the Best Animation award at the American Indian Film Festival and was nominated for Achievement in Animation at the LA Skins Fest, which screened Source of the Wound in Hollywood on Nov. 24. The film will be used in classes starting in January 2020
The feedback so far has been positive, says Beltrán, who identifies as a mixed-race Xicana of Yaqui and Mexica descent. "People have described it as powerful. The story is meant to reach a broad audience, but much of the imagery speaks directly to Native and Indigenous communities."
Because direct conversation with community is at the core of all of Beltrán's work, she says it's crucial to make knowledge broadly accessible to the communities that can benefit from it. Peer-reviewed publications have their place in research and scholarship, but so do creative expressions that can reach more people, often in a more resonant way.
"Art and creativity have so much potential for impact," Beltrán says. "Art has always been a language for transformation and justice. It speaks to the spirit and can mobilize people toward action."
"I want this film to inspire dialog about the concept of historical trauma," she adds. "It's one story within a complex historical context. It is a starting place, but it is not the final word."